Everyone in business everywhere can join
All companies with a business in Singapore or an interest in Singapore may apply for membership irrespective of size or sector. Individual membership is also available and subject to consideration on a case by case basis.
The Chamber represents about 500 local and foreign owned companies from multinationals to one to two people start-ups which together represent more than 40 nationalities and 20 sectors. 
By tradition, Honorary Membership is extended to Ambassadors, High Commissioners and their deputies from many countries to benefit members with truly international perspectives and reach..
How do I benefit from membership of Singapore International Chamber of Commerce?
You and your fellow members form the ecosystem with an edge that is SICC. It functions to your advantage when you leverage the ecosystem to share your expertise, knowledge and thought leadership. This is how you expand your personal and business networks
Participate in Chamber events, be a speaker or moderator and/or drive the work of an Interest Group allied to your interests or business.
Above all, provide your input. Tell the Secretariat what your membership objectives are and what you need to achieve them. The SICC team will do its very best to deliver
Connect and dialogue with Singapore's policymakers
Access an effective and respected advocate for your views on government policy and policy implementation when you need to
Enjoy preferential and priority registrations for all events
Be rewarded for referring new members to the Chamber
Enjoy preferential rates for the issuance of Certificates of Origin (COs) and ATA Carnets (applicable for registered companies only)
Receive a complimentary copy of the Members' Directory every year
Choose from different membership categories to suit your needs:-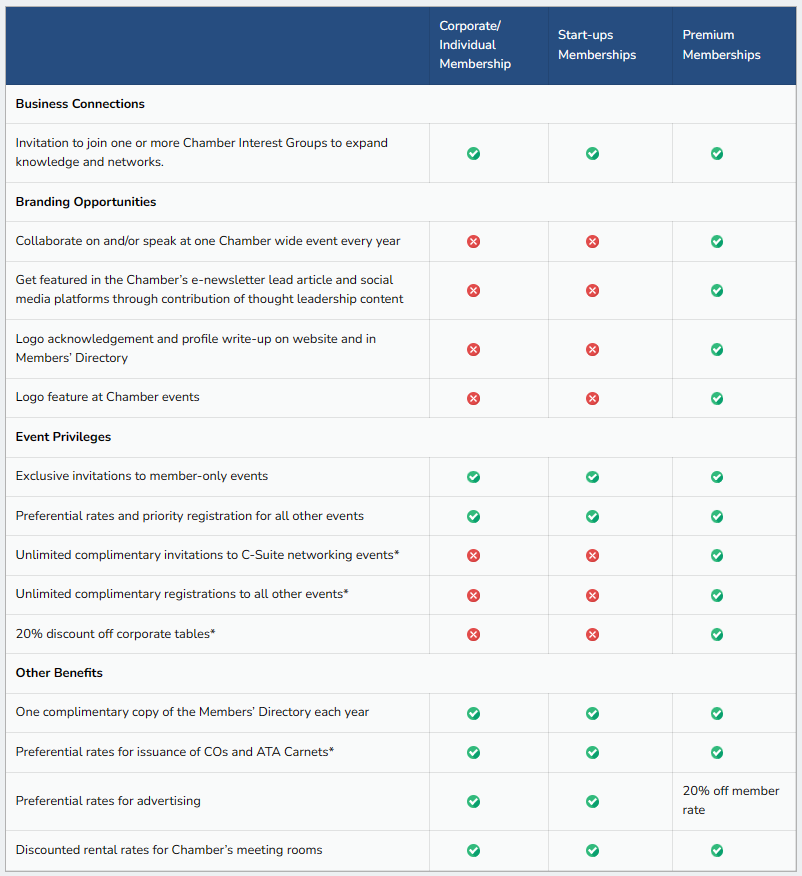 *Remarks
C-Suite Networking event invitation applicable to c-suite executives only
Complimentary event registrations not applicable for AGM Luncheon/Reception, SICC Awards Gala Dinner, special events
Corporate tables are available at AGM Luncheon, SICC Awards Gala Dinner and special events (Note: Some of these events are organised biennially)
COs and ATA Carnets not applicable for individual members